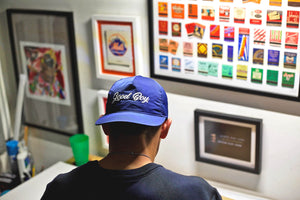 Who's a Good Boy?
Yooo what's good everyone - I'm AJ Voelpel, the sole founder & artist of Good Boy Originals. I was born and raised in New York, but currently reside in Southern California with my wife and two boys.
Like most good things, GBO started out in a garage as a pure passion project. It has since transformed into a legit side hustle that allows me to create custom art pieces for people all over the world, and currently operates out of a slightly bigger garage.
I mean, exceeding expectations really is the name of the game and I'm grateful for the overwhelmingly positive feedback I receive. The immense precision and thought and time and effort that I put into every single piece is undoubtedly motivated by how much joy they bring people.
No object is off limits, so definitely send me a note if you have an idea for a custom project to aj@goodboyoriginals.com. Golf items and matchbooks are probably my most requested, but I've transformed everything from coins, jewelry, corks, postcards, writing instruments, hot sauce bottles, fishing lures, homemade pasta…just to name a few.
Skratch TV Feature
The fine folks at Skratch TV (shoutout Sam & Zoe) spent a few days with me in March 2021 to profile exactly what it is that I do.
The Process
Clean and cool is the name of the game. The art I produce has always been rooted in simplicity. I let the object be the star and do my best to showcase it in a way that's not only visually stunning, but will evoke endless memories and conversations.
​
Concept & Photography
All designs are completely collaborative.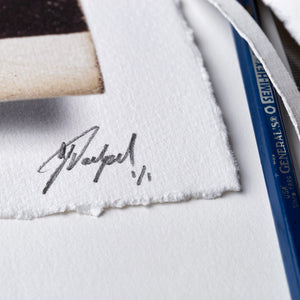 World-Class Fine Art Papers
I pride myself on using only the best archival rags, mainly from renowned producers Moab & Hahnemuhle.
Museum-Grade Matting, Glazing & Custom Framing
I mat and frame everything myself. All done in-house. Constantly learning & refining my techniques to create the most thoughtful & stunning product possible.